Affordable
Rental Portal
Registrations Now Closed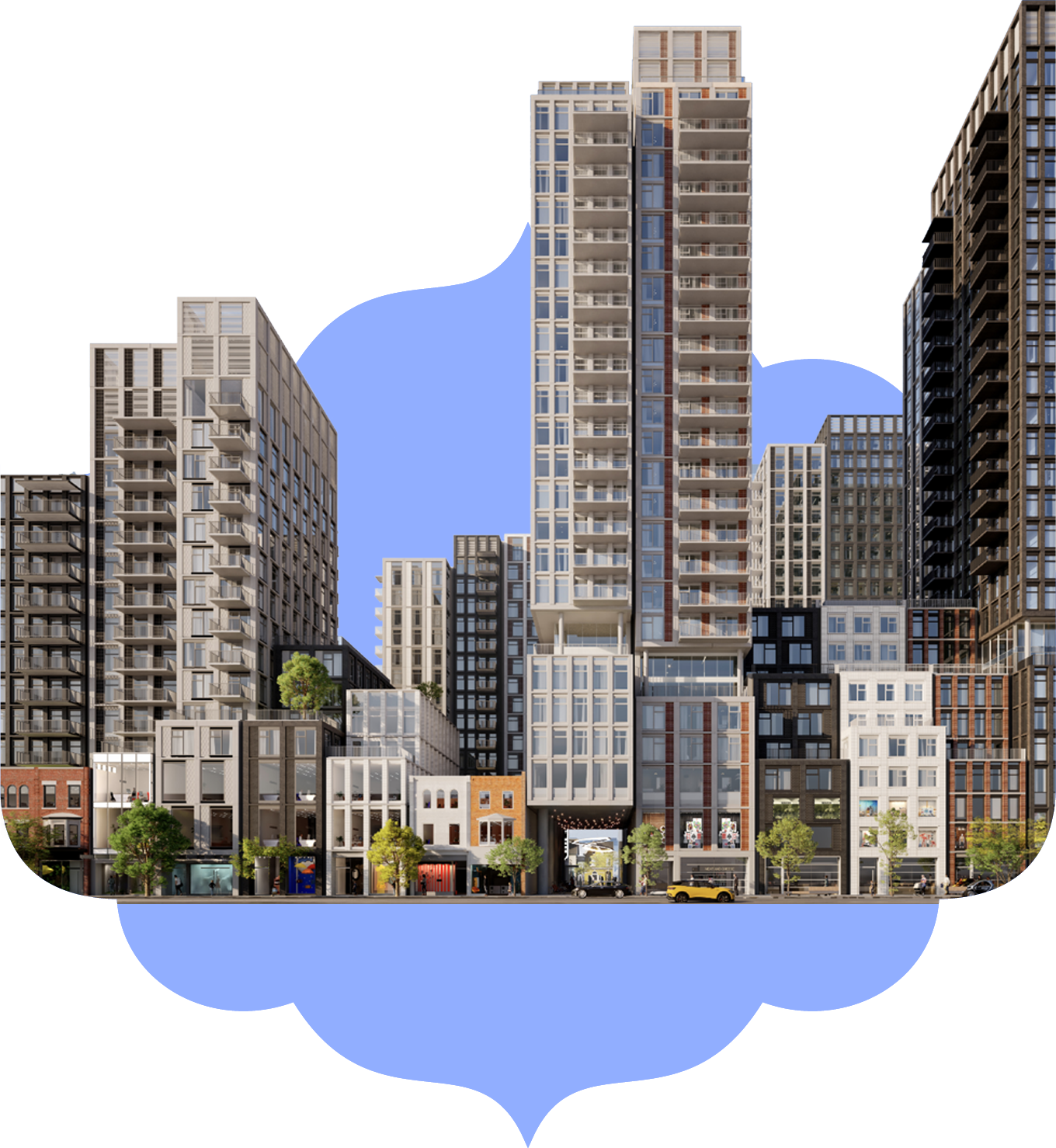 37 Affordable
Rental Homes
Available
With funding from the City of Toronto, Province of Ontario, and Government of Canada, Mirvish Village will offer a total of 85 affordable rental homes, with a range of unit types and floorplans. These homes will be scattered throughout the project and have the same design and finishes as the market rental homes.
48 homes will be allocated to local non-profit agencies to address specific demographic needs, and 37 homes will be available through this registration portal.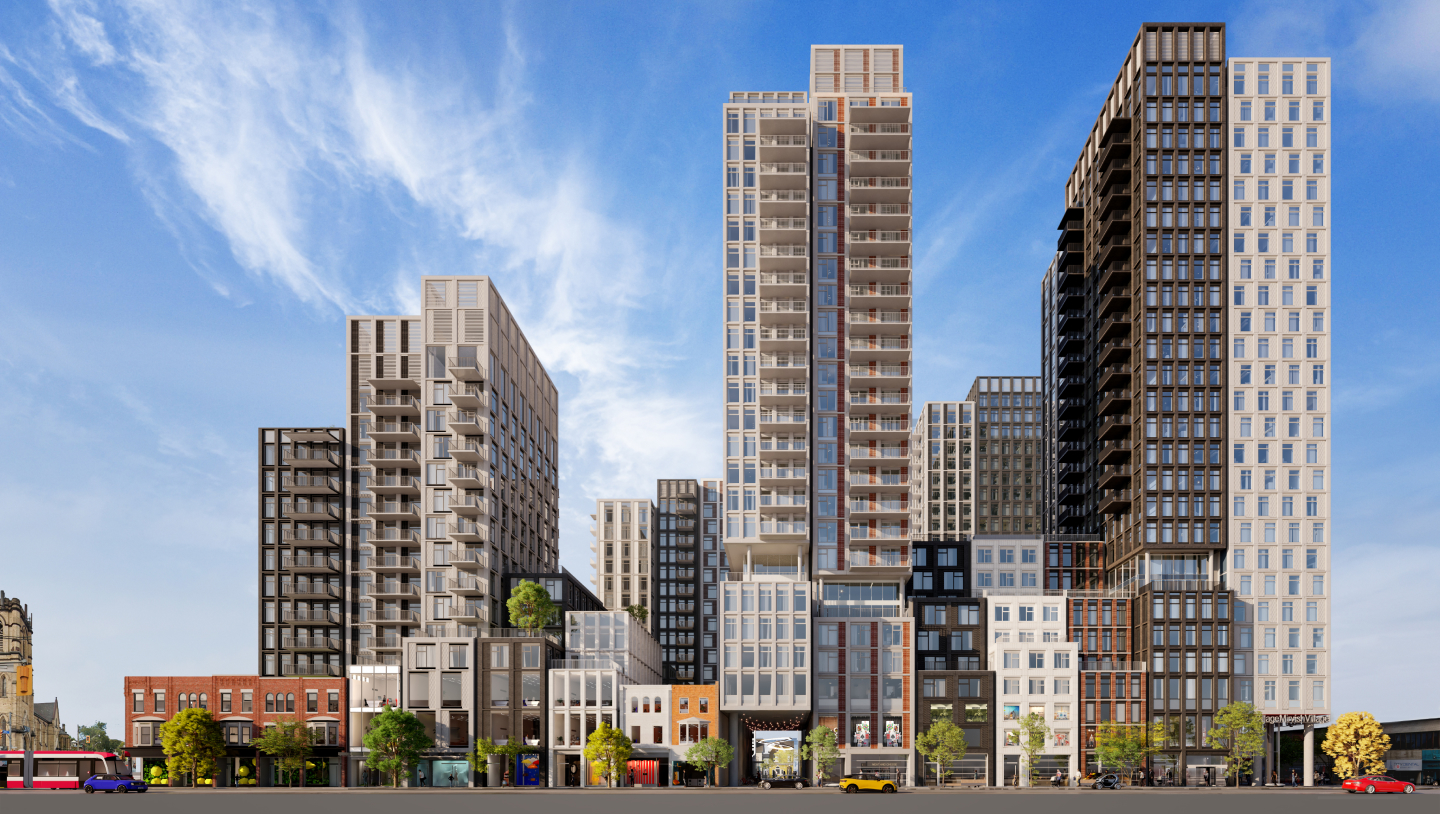 Mirvish Village offers affordable studios, 1, 2 and 3 bedroom homes ranging in size from 444 sq. ft. to 1048 sq. ft. These homes are located in Building 3, fronting Bathurst Street at the corner of Bloor and Bathurst Streets and Building 4, fronting Bathurst Street at the corner of Bathurst and Lennox Streets. Both Buildings 3 & 4 are smoke-free.
The amenities at Mirvish Village are inspired by themes of: Art in Context, Cinema, Music, Fashion, Literature, Sculpture, Painting, Architecture.
Each building has its own amenities available only to the building's residents and each building has a different amenity offering. Examples of amenities include: an amenity lounge/kitchen, co-working/study space, gym, a rooftop terrace and outdoor children's play area. There are also communal amenities available to all residents for example, a full floor indoor/outdoor amenity room and rooftop pool.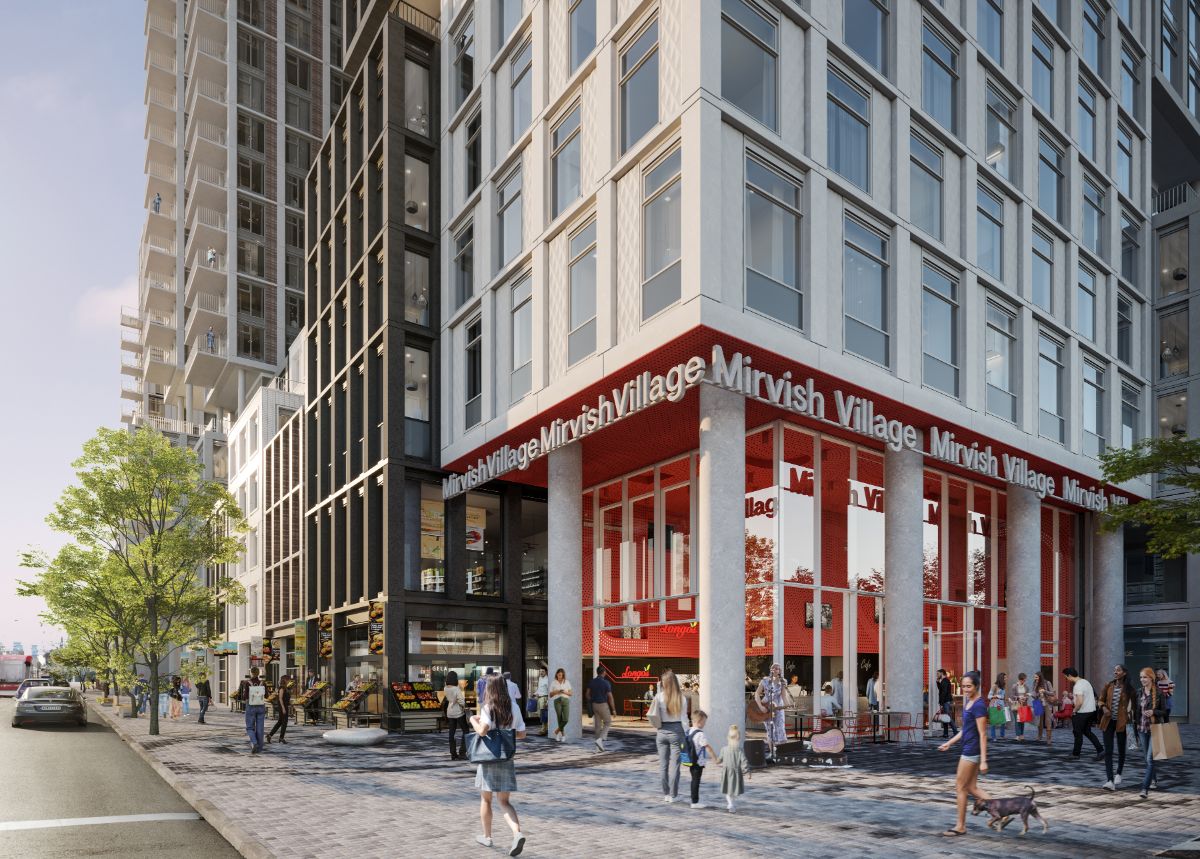 Mirvish Village Café View from Corner of Bloor and Bathurst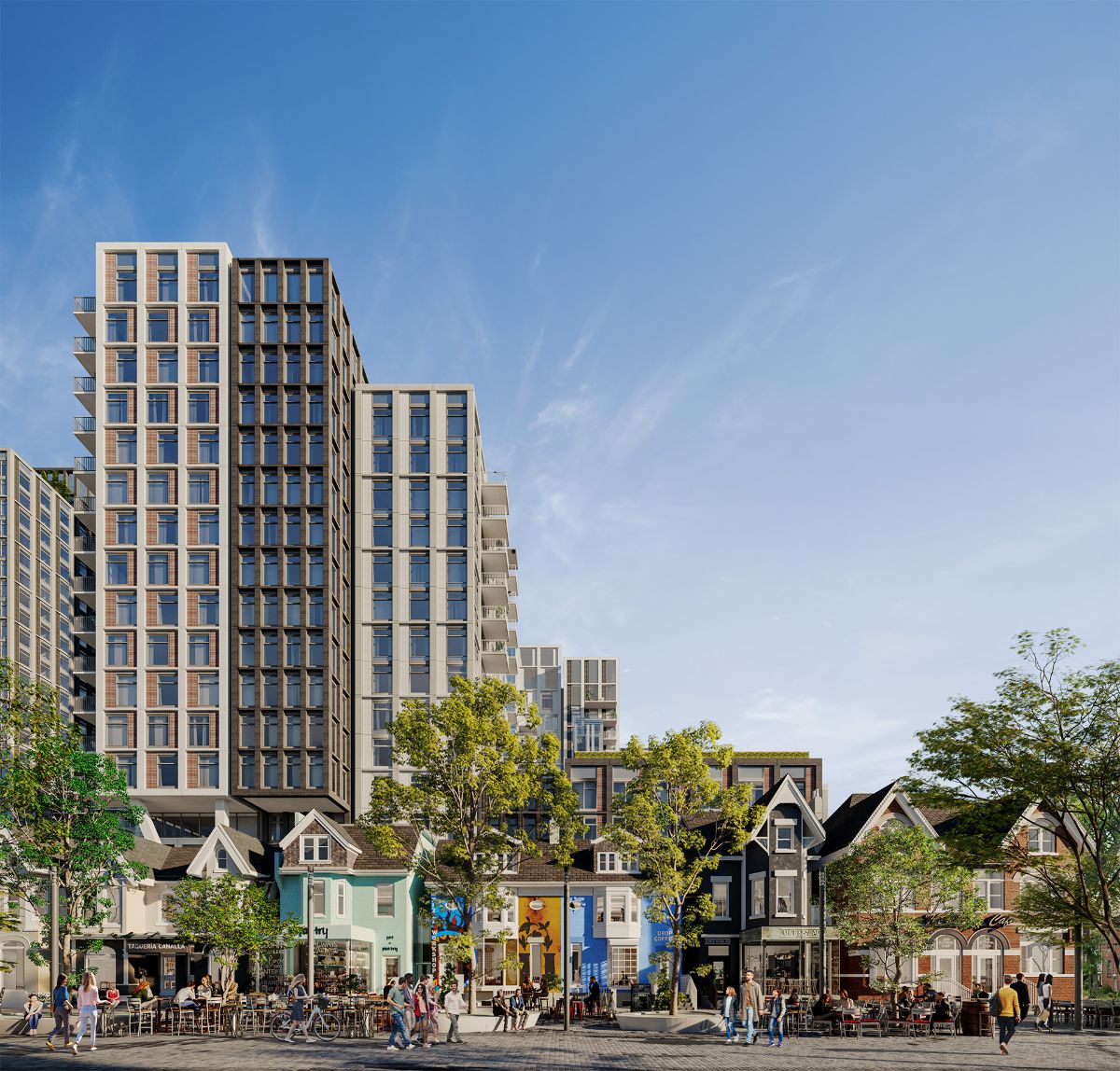 Markham Street Heritage Houses
Q&A
Q: What is the Mirvish Village Affordable Housing Program?
+
A:With funding from the City of Toronto, Province of Ontario, and Government of Canada, Mirvish Village will offer 85 affordable rental homes as part of an affordable housing program with the City of Toronto. Of these, 37 homes will be offered at 80% AMR rates, as part of the Mirvish Village Affordable Housing Program managed by Westbank and Peterson in partnership with the City of Toronto. The remaining 48 affordable homes will be allocated by community non-profit partners, chosen to address specific demographics and needs in this community.
Q: How much is the rent for each home available through this program?
+
A:The rents for the affordable housing at Mirvish Village are as follows:
Studio $1,004 / Month
1 Bedroom $1,185 / Month
2 Bedroom $1,396 / Month
3 Bedroom $1,608 / Month
*Tenants will be responsible for paying all utility costs.
Q: How are tenants for the affordable housing selected?
+
A:Registrants must meet the eligibility criteria listed on the registration portal. Following closure of the registration period on March 6, 2023, homes will be allocated by random selection of eligible registrants who complete a full application.
Q: What's the maximum income I can have?
+
A:Income limits for each unit type will be listed on the Mirvish Village Affordable Rental Portal website. Registrant income cannot exceed 4 times the annual 2023 AMR rents.
Q: When can I apply and how?
+
A:The portal for expressions of interest is open January 16, 2023 to March 6, 2023 on the Mirvish Village website. Expressions of interest close at 5pm EST March 6, 2023. To register please fill out the registration form on the Affordable Rental page of the website. Registrants will be entered into a pool for random selection. If you are selected, you will be contacted for supporting documents and invited to fill out a full application.
Q: How do I know if you've received my registration?
+
A:On successful submission of your registration, your household will receive an email notification and you will be added to a list for random selection. Random selection will occur after the closing of the registration period, on March 6, 2023. If your registration is selected, at this time, you will be contacted to complete an application with supporting documents. Upon completion of your application, you will be notified about next steps (lease signing etc).
Q: When will I know if my application has been successful?
+
A:If randomly selected, a leasing representative will be in contact and will help you complete a full application, as needed. On completion of your full application you will be notified if your application is successful and provided details on your home and move-in date.
A:We anticipate move-ins to commence in 2023. Successful approved applicants will be provided with further information on their move-in dates in Spring 2023. Please note that the move-in date currently anticipated is subject to change and successful applicants will be notified of any changes to this date as needed.
Q: Who is leasing the other 48 affordable homes created by this program and how can I apply?
+
A:They will be allocated by community non-profit partners including: Blackhurst Cultural Centre in partnership with WoodGreen Community Housing, Community Living Toronto, Kehilla Residential Programme and Wigwamen.
Each community partner has been allocated 12 affordable rental homes for which they will provide referrals based on their individual criteria and mandates for providing affordable housing. Each community partner will also have their own application page and process.
Affordable Rental
Requirements and Process
To be Eligible for these Homes
+
All tenants must have Status in Canada. Each member of the household is:
A Canadian Citizen, or
A Permanent Resident of Canada who has applied for permanent resident status, or
A refugee claimant of Convention Refugee
At initial occupancy, each household must have income that does not exceed four times the annual equivalent of the monthly Occupancy Cost for the unit
The household must include a minimum of one person, per bedroom, and couples must share a bedroom. No more than 2 persons per bedroom.
Please note that duplicate registrations from the same family or person are not permitted, and could result in removal from the list.
All residents of Mirvish Village are required to set up and pay their own utilities through a third-party utility provider (not included in the rent).
Once you have registered, and once the deadline has passed, all registrant names will be included in a random selection process. Registrants that are selected from the random selection will be contacted in order, based on the highest ranking for their qualified unit type. If you qualify and are chosen, you will be sent an electronic registration form to fill out. To ensure that you are able to meet this deadline, have all the documentation listed below on hand (including 2021 Notice of Assessment and Proof of Status in Canada identification). Once all of the units are allocated, the website will be updated to indicate that the process has been completed.
Buildings and Addresses
1

589 Bloor Street West

2

625 Markham Street

3

(Podium Levels 1-6) 762 Bathurst Street

3

(Podium Levels 7-9) 571 Bloor Street West
3A

571 Bloor Street West

3B

760 Bathurst Street

4

748 Bathurst Street

5

601 Markham Street
| Unit | Building | Bedrooms | View |
| --- | --- | --- | --- |
| 05-13 | 3 | Studio | E |
| 05-29 | 3 | Studio | W |
| A-11-06 | 3A | Studio | S |
| 06-06 | 4 | Studio | S |
| 10-05 | 4 | Studio | S |
| 11-05 | 4 | Studio | S |
| 04-01 | 3 | 3 Bedrooms | NW |
| 05-16 | 3 | 3 Bedrooms | SE |
| 06-16 | 3 | 3 Bedrooms | SE |
| 07-01 | 3 | 2 Bedrooms | NW |